Successful free to play game design revolves around your game's ability to keep people engaged, encouraging them to come back time and again. As such, session design looks at how you can ease people into your game, before then easing them back out again through timers and energy.
Session design is often measured in Sessions per Day and Session Length.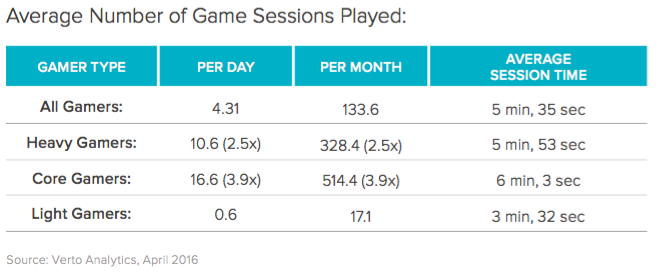 To drive a strong amount of sessions per day you have to be smart. Demanding that players come back 20 plus times through the day to play hours of your game in order to be competitive is an easy way to turn away your player base. Instead, designers have to be far more subtle: they need to give players a reason to always come back, and make it easy to stay just a little longer within the game without feeling forceful.
Within mobile, the "Starbucks Test" is a common point of reference. That's to say that a player should be able to start up your game, play a round, make some progress, and exit all within the time it takes them to order a coffee at Starbucks – around two minutes. This means your core loop needs to be fast – two minutes maximum. This is why rounds in Clash Royale are so short, and why races in CSR feel so rewarding. Being able to play fast, rewarding sessions on mobile is imperative.
However, there is also the "Commuter Test" – i.e., there should be always something to do in your game for when a player has a longer period of time to themselves, whether you're on the Subway or Underground for 20 or so minutes and want to kill time. Key to this is avoiding building in situations where players feel "kicked out" of your game (ex. They've run out of lives, there is nothing left to build) and instead always ensuring there something to do, even if over time the player gains benefit for leaving the game. This is why games like Clash of Clans reward players for keeping their game active.
So how do you pass these two tests? What can you do as a designer to drive strong sessions? We've pulled together our thoughts on this across multiple articles:
Creating flexible sessions that both hit the requirements of mobile as well as multiple strong sessions per day is the core of good session design. Check out the links below for a more detailed look: